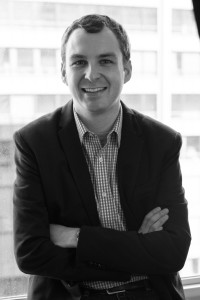 Michael Nothnagel, Account Supervisor with CarusoPR a division of Caruso Communications LLC.
Michael brings more than eight years of professional communications experience to clients where he skillfully manages and executes complex client projects that cover a multitude of elements. Michael has a knack for identifying  and building a story. He works closely with clients and keeps a watchful eye on new story opportunities ensuring brand and messages remain in top focus.
Michael's keen sense of news generates client stories to a broad spectrum of media outlets including broadcast news and programs; online media outlets and print trade and business media.
Prior to joining the firm, Michael worked for five years in the fast paced, highly competitive environment of television news. He produced evening and morning newscasts for ABC stations in multiple markets including Milwaukee, Wisconsin and Dayton, Ohio. Michael's television experience offers unique insights on how to best reach reporters and producers with a creative pitch that results in high quality, targeted earned media placements for clients. He is also able to put even the shyest client at ease as he takes them through the paces of live or taped media interviews.
Michael also leads our creative team through planning and production of compelling videos overseeing projects containing simple one camera video actualities to stock footage and voice overs.  He also diligently manages major outsourced productions offering creative insights ensuring client messages shine through the entire reel on time and on budget.
Michael keeps all client projects humming and running in a timely fashion ensuring the team stays organized and ahead of deadlines and various program elements.
He earned a Bachelor of Arts degree from Marquette University in Broadcasting & Electronic Communication and Political Science. While attending Marquette University, Michael served as an intern in the United States Congress.
Michael believes strongly in giving back and frequently volunteers with the Leukemia & Lymphoma Society. He resides in Chicago with his wife, Kathy.